ALEXIS GUERIN (Partner)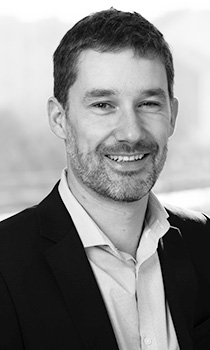 IP Expertise
Protection strategies
Patentability analysis
Patent drafting and prosecution
Oral proceedings at the EPO
Freedom to operate evaluations
Foreign procedures
Technical Expertise
Microelectronics (processes and structures)
Semiconductors
Physics
Optics, optoelectronics
Group III-V technologies
Photovoltaics
Non-destructive testing
Ultrasound
Qualifications
European Patent Attorney
French Patent Attorney
CEIPI certificate
Electronics Engineer – ISEP, Paris
Master of Research (signal processing), UCD, Dublin
Presentation
Alexis obtained his engineering degree in 2003 in Paris, after which he spent two years in Dublin in a signal processing laboratory at UCD (University College Dublin), where he obtained a Master of Research degree.
During a first three-year professional experience at a technology consulting and engineering company (ALTEN) he worked on non-destructive ultrasonic testing devices, and industrial machines for optical quality control.
He joined BEAUMONT in early 2009, and has since obtained a solid experience in patent drafting and prosecution in the fields of microelectronics, optics and signal processing. He became a partner in 2017.
For several years, he has been providing patent training for final year students from the PHELMA engineering school (physics, electronics, materials) of the Grenoble INP group. He also accompanies student entrepreneurs from the Auvergne Rhône-Alpes region as part of PEPITE OZER.